Video
Viral Video
Video Of A Woman Working Out In A Gym In A Saree Goes Viral, Leaves Internet Divided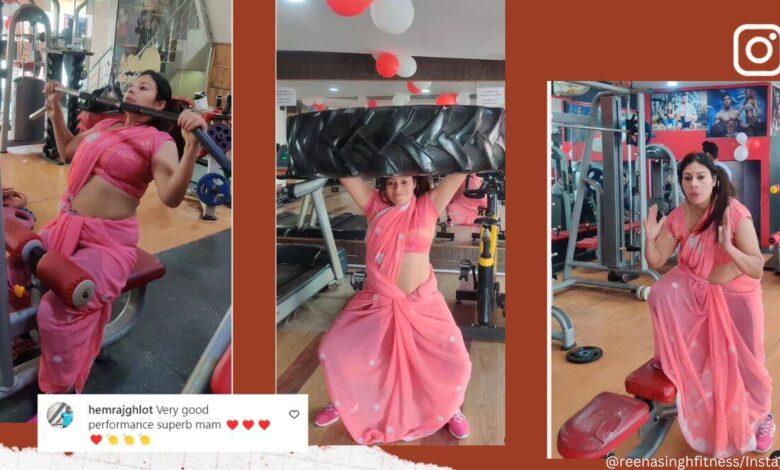 The saree has always been synonymous with Indian women. A lot of people feel that it is the most elegant garment ever. The interesting thing about saree is that it never goes out of fashion.
For many women it is something they prefer to put on a daily basic. Whatever it is to cook and clean or care for a child, they do all the work effortlessly and comfortably in a saree. However when it comes to gyming, is it possible to workout clad in a 6 feet long fabric?
Well, now you will because a video of a woman doing just that has gone super viral and the internet is impressed. At least most of it is. Watch the viral clip here to know what we are talking about.
Reena Singh, a fitness trainer, posted a video wearing a pink saree and working out in a gym on December 31. Singh can be seen doing cardio comfortably by moving on a bench. She then does a pulldown exercise on a machine and also lifts a tyre and does squats as a part of her workout. Since being shared, the clip has received a whopping 37 million views.
Watch the video below: 
View this post on Instagram
"This is just the beginning," Ms Singh wrote in the caption of her post.
Internet users were quick to react to her video. While some applauded Ms Singh's unique workout attire, others, however, argued if it was okay for women to wear a saree instead of athleisure clothing for working out at a gym.
One user wrote, "The amount of injury you can have is not even explainable. Yes, peheno saree… par (wear saree…but) weights, machines, cross fit… needs comfortable gym wear. Be safe!" Another added, "Saree is okay but encourage them to wear gym wear to avoid injury. Some exercises can be performed but not all, like the first one. So, I feel you should encourage them to wear proper clothes to avoid injury."