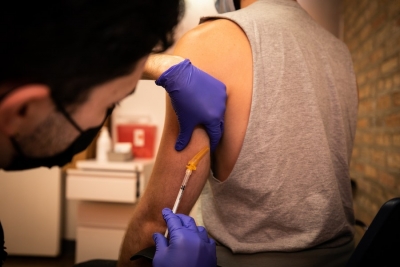 Vaccination drive against Covid-19 is set to resume on Thursday as a precautionary measure amid the increasing number of people being infected by different variants of the deadly virus across the globe.
Preparations for administering the second precautionary dose of Covid, as well as the booster dose, have been completed in all the districts of the state.
"One lakh Covishield doses have reached Odisha under National Covid-19 vaccination programme. It has been sent to different districts. Beneficiaries, whose second dose and precaution dose are due, can get themselves vaccinated from tomorrow," said Health Services Director Bijay Mohapatra.
The State Health department has asked people not to miss the chance of getting vaccinated in case they are due. The department has advised people to get booster dose as precaution as covid-19 threat continues to lurk.
According to the Health Department, the vaccine (Covishield) will be available at District Headquarters Hospital (DHH), Sub-Divisional Hospital (SDH), Community Health Centre (CHC) and Primary Health Centre (PHC) across the State from January 19. The Covishield jab will be available for beneficiaries whose second dose as well as precaution dose is due.
As per records, only 40 per cent of people in the state has been administered the Covid booster dose so far.
The Health Department asked the citizen to take this opportunity to get vaccinated and stay safe from Coronavirus.