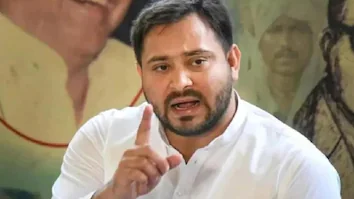 Patna, July 18: He found with playing cricket with his house assistants and servants on Sunday. Both Tejashwi Yadav and the team enjoyed the burning out inside residence campus and a visual treat for netizens.
Reportedly, keen to lose weight on Namo's advice, Tejashwi finds 'old love' back in bat-ball after a few years. Yadav seen playing Cricket in his Patna House with workers.
वो सत्ता में हो या विपक्ष में, परवाह नहीं!

बिहार के जनजीवन के असल मुद्दों के लिए फ्रंटफुट पर खेलने वाला एक ही खिलाड़ी चर्चित है: pic.twitter.com/1p8QRmkg57

— RJD Employment (@employment_rjd) July 17, 2022
Just this week, the Prime Minister expressed concern over Tejashwi's Madhya Pradesh, suggesting shedding excess fat. Sunday proved that he took that advice seriously. RJD leader Tejashwi Yadav was seen sweating. But not doing yoga or physical exercise as suggested by the Prime Minister.
Tejaswi can be seen walking in the open space of his own house.
Even with the glove-bat in hand, Lalu-Putra could not get a wicket. A plastic chair is a must. Tejashwi Yadav was busy playing cricket with the house servants and not political leaders or close friends.
Incidentally, Tejashwi Yadav played cricket before entering politics. He was a state level player. His childhood dream was to become a cricketer. But after entering politics, he gave up his dream of becoming a cricketer.