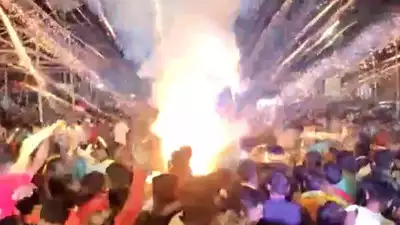 Kendrapara (Odisha) , Nov 24: Several people sustained grievous burn injuries on Wednesday night in a firecracker accident at Ballia Bazar during the Kartikeswar immersion under Kendrapara Sadar police limit.

Police sources said, over 30 people sustained grievous burn injuries, ten of them admitted to the ICU after they were referred to the SCB medical college and Hospital at Cuttack.

The mishap occurred during a fire cracker competition, at the Kartikeswar immersion venue at Balia Bazar when a bamboo whirl fire cracker stock caught fire and fell on the ground resulting in an explosion near a betel shop .

Hundreds of locals, who were standing nearby the betel shop and witnessing the immersion and fire cracker competition sustained grevious burn injuries.
All the injured persons were rushed to Kendrapara District Headquarter hospital with the help of the locals and police personnel .

According to hospital sources, 8 people who sustained critical burn injuries were shifted to SCB medical college and hospital for treatment.
District collector Amrit Ruturaj, rushed to the District Headquarter hospital to take stock of the situation and arrange free treatment to the injured at the SCB medical college and hospital.

The Collector has already ordered a probe and said stern action would be initiated against the persons responsible for the mishap.